Stained Concrete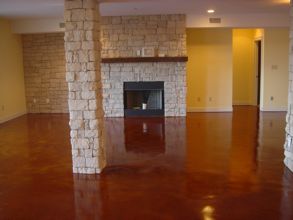 Stained Concrete is a deep penetrating concrete stain system that creates beautiful, mottled color tones in existing concrete.
Stained Concrete is perfect for basements, restaurants, churches, garages, and more.
Sprayed Concrete Overlay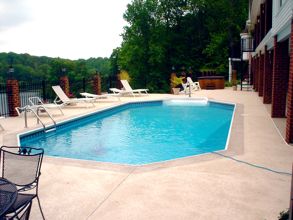 Sprayed concrete overlay systems are designed to transform ordinary concrete into bold and exciting textured surfaces.
Perfect for pool decks, patios, porches and more.
Stamped Concrete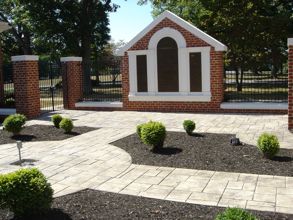 Stamped concrete is a system that duplicates natures texture with incredible realism and durability.
Perfect for sidewalks, patios, driveways, porches and more.
Vinyl Chip Epoxy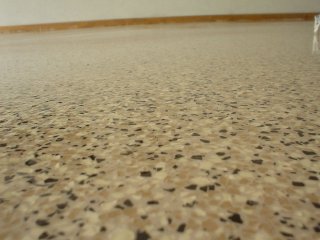 Designed for use on old or new concrete in both prestigious commercial projects and intimate residential spaces, vinyl chip epoxy offers unlimited design capabilities that transform ordinary concrete into a limitless pallette of color and design.
Perfect for garages, basements, bathrooms, or kitchens.
Stamped Concrete Overlay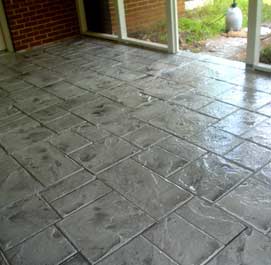 Our stamped concrete overlay system is a cover-up for existing concrete surfaces that duplicates the look of natural stone, slate, brick and granite, eliminating the hassle and expense of concrete replacement.
Perfect for sidewalks, patios, carports, and more.
Polished Concrete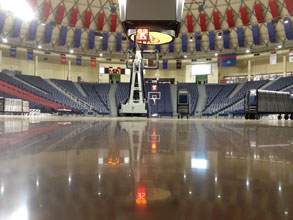 Concrete Polishing enhances the natural beauty of concrete. Through a process of densifying the concrete with impregnative harderners and grinding with diamond tooling we can achieve high gloss floor that is as beautiful as it is durable.
Perfect for retail stores, classrooms, basements, restaurants, arenas and more.
Metallic Epoxy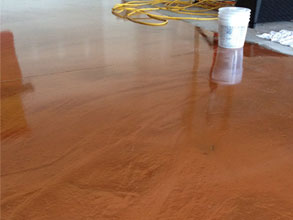 Metal Essence Metallic epoxy is a unique product capable of producing custom one of a kind look floors. Our 100% solids epoxy mixed with custom metal pigments create a floor that is as durable as it is beautiful.
Metallic epoxy is perfect for Basements, Garages, Showrooms, Restaurants, Shopping Centers, Plazas, Hotel Entryways, Lobbies, Foyers, Living Rooms, Kitchens, and many more.
Concrete Countertops

Polished Concrete Countertops are perfect for homeowners and designers who want a solid surface countertop that is different than typical granite or marble.
The advantage to using concrete is that it is completely customizable. We can provide virtually any color and shape. We can also add special colored aggregates to the surface to give the each countertop a truly unique look.
Testimonials
Thank you for the work done on my floor. It looks really good & I really appreciate the time taken to make sure we accomplished satisfaction. I have recommended you to some friends and co-workers so I have you get some calls.
Thanks,
Cherina
I had my front porch stamped with decorative concrete as well as my kitchen countertops done in my newly built home. I have been very pleased with both products and the professionalism of the Decorative Concrete of Virginia staff. I LOVE my front porch and plan to do a walkway in the future.
-Christina