Our most popular stamped concrete technique is when we tint each rock a different color, so I figured I would explain exactly how we do it.
#1. Obviously you have to form the job.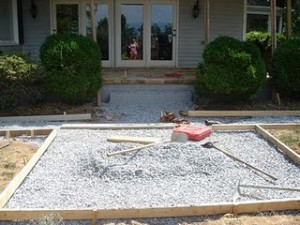 #2. Pour the concrete.
We use a 3500psi mix without any color mixed in the truck. Then we applied Adobe Buff color hardener to the surface of the concrete. After the color was properly troweled into the concrete, we applied a clear release agent and stamped the concrete with a large flagstone pattern. Here is what it looked like after the concrete was stamped.

#3. After the concrete has cured, we apply different colors of concrete stain to each rock, and then apply a sealer.