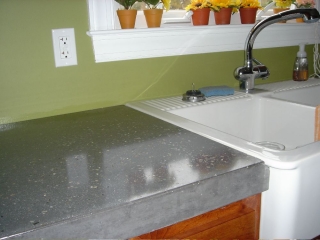 Concrete has substance and mass, permanence and warmth. It feels earthy, and is at home in both traditional and modern settings. It assumes forms that irrevocably touch our daily lives: bridges, highways, floors, walls… even countertops. Concrete is also surprisingly tactile. Cast and shaped, it can feel like stone rounded by the sea. Textured and colored, it can echo the patina of timeworn tile.
– Fu Tung Cheng
Polished Concrete Countertops are perfect for homeowners and designers who want a solid surface countertop that is different than typical granite or marble.
The advantage to using concrete is that it is completely customizable. We can provide virtually any color and shape. We can also add special colored aggregates to the surface to give the each countertop a truly unique look.
We start by making templates on top of existing cabinetry. We take the templates back to our shop and build forms upside down out of glass or laminate wood.
Once the forms are built, we start the process of spraying and pouring the concrete.
The first step is to spray the forms with a colored concrete mix. After the forms are sprayed, we fill them the rest of the way with glass fiber reinforced concrete. By using glass fiber, we are able to cast concrete counters that are significantly lighter weight than traditional concrete.
After the concrete has cured for a few days, we remove the forms and flip them over and begin polishing the surface with diamond grinders. We start at 50 grit and work our way up to 1500 grit which leaves a polished finish. Finally, the countertops are sealed and waxed.
Here is our standard color chart for concrete countertops.