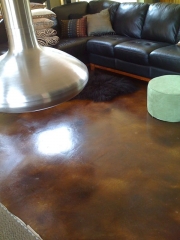 The ideal scenario would be if we could stain concrete that was 30 days old and had never been walked on… but obviously that is not practical, so there are a few things that need to be understood before proceeding with stained concrete.
First of all, it is important to say that all concrete can be stained. It is our belief that the nuances caused by aged concrete or wear and tear that happens before the concrete is stained only enhances the rustic look of a completed stained concrete floor. Even if your concrete is old, painted, or covered in carpet, we can use our techniques to get your concrete in a condition to become a beautiful stained concrete floor.
With that being said, here are a few suggestions for controlling a construction project to create the best possible floor.
Existing Concrete Floors
All concrete can be stained. We've said this before, but its worth repeating:
It is our belief that the nuances caused by aged concrete or wear and tear that happens before the concrete is stained only enhances the rustic look of a completed stained concrete floor.
We can only stain bare concrete. If your floor is in good shape and is free from sealers or paint, then it is ready to be stained.
If your concrete floor is covered in carpet, paint, tile or sealer, we can grind the surface to give us a clean concrete slab that can be transformed with stained concrete.
There are a few things that can't be remedied by grinding. Tack strips from the edges of carpet or oil/grease spills will probably be visible in the final product. Here are a few photos of a basements that had carpet with tack strips and a few small stains.
Most of our customers view this as part of the rustic look of a stained concrete floor.
For those situations where the existing concrete isn't in good enough shape to be stained, we can apply (for an extra charge) a micro-topping concrete overlay to cover the entire old floor. This process will give us a relatively smooth surface with a few trowel marks, that we can turn into a beautiful stained concrete floor.
Here are a few examples where we removed the carpet, applied a micro-topping, and then applied concrete stain.
New Construction Projects
All colors can be affected by several factors including but not limited to: Concrete mix design, weather, finish of concrete, chemicals used in concrete placing and finishing, chemicals used by other trades that are spilt on concrete, age of concrete. Even though a slab is poured as one continuous pour, any slab requiring more than one truck load of ready mix concrete is subject to have slight color differences due to mix design.
Many chemicals used in concrete can change the way stains react with conrete. Calcium Chloride, Curing agents, and Sealers are the most used that effect staining. Avoid using these. We recommend using a minimum of 5 sacks of cement per yard of concrete with limestone, no calcium chloride, and no curing agents or sealers. Any nonchloride accelerator is acceptable.
On new construction projects, framers need to use either WHITE or BLUE chalk when marking the slab. RED chalk is more permanent and cannot be removed completely. Do not mark on the slab with paint, markers, or grease pencils.
Buckets, boards, or anything else that can keep moisture trapped in the slab for prolonged periods of time can affect Acid staining or dying. A bucket set on a concrete floor will leave a ring that will be seen through the stain. Boards and plastic will generally cause dark areas in the concrete that show up after staining.
Damage to a slab during construction is easily prevented. However any major chips or dents will need to be patched prior to staining. These patches will possibly stain different than the slab or they may not stain at all.
On new construction projects, after the floors have been allowed to cure for 2-4 weeks, we recommend covering all floors to be stained/dyed with paper or a breathable material (Tyvek) prior to staining to avoid as much damage as possible. Also we recommend covering the floor after staining until time for final clean up. Do not use tape to hold paper on the floor. Tape the paper to the wall, and then tape each sheet to the previous sheet of paper.
We prefer to stain new construction homes right after sheetrock is hung. This is because Acid Stain/Concrete Dye is a liquid product and no matter how much shielding or tape is used it will weep up painted walls and mortar. The stain will discolor any paint and mortar that it comes in contact with. If we stain after paint or mortar work is done, it is likely that there will be some paint touch-up required.
Once a floor is stained there is no reversing the process. Stain cannot be lightened or removed.
After final clean up on a project, a final finish of Increte Wax should remove any scratches the finish received during construction. This process will most likely not remove impact damage, as care should be taken to minimize this.
As with any flooring, Acid Stained or dyed floors are not indestructible. They are more durable, with proper maintenance. It is recommended that you treat your new floor just as you would treat a hard wood floor. Also, to keep that glossy look, your floor should be cleaned with warm water and mild detergent and be resealed (floor finish) at least once a year.