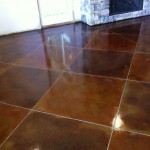 Most of our stained concrete projects involve a single color of stain across the entire floor, but occasionally we get clients that want us to create a look that simulates tile.
The process is fairly simple to explain, (we score lines and stain each block a different color), but its always hard for people to understand exactly how we do it.
Here is a video with a few photos so you can see exactly how we cut decorative lines into concrete:
Here are a few photos showing a scored concrete floor that is stained with multiple colors:

For more information, please visit our Stained Concrete page.